Let's face it, lots of guys hit the gym for dating reasons.
The general thinking is that by having a hotter body, you'll attract hotter girls.
And there's no denying that.
What most guys don't know, however, is that their strategy can also backfire in very negative, unpredictable ways…
Severely limiting their masculinity, libido, and overall seductive success among others.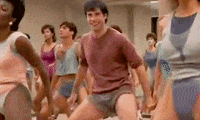 Truth is that there is much more to your body than the way it looks.
Like your senses of coordination, balance, and grace, your posture and flexibility –– aka your movement capacities.
Or your physical sensations such as stiffness, fatigue, pleasure, or pain –– your sensual reality.
All these massively contribute to shaping the way you feel and behave around others.
Believe it or not but over my long career as a world-famous dating coach I've coached dozens of traditionally fit guys whose main seductive issue was of a physical nature…
Their poor posture, lack of physical & mental flexibility, and sleepy senses eventually led to often awkward and clumsy interactions.
If you want to learn how to truly optimize your body for masculine success, improve your body language, and master non-verbal attraction, watch my latest video.
In it, I explain how to achieve all of the above by embracing the idea of non-linear thinking and training.
Link below to watch it:
P.S. Looking to become stronger, more relaxed, and in tune with your mind and body while developing killer instinct and confidence?
Look no further…
My Natural Warrior Training workshop gives you the chance to spend 8 days with me and my cadre of elite masculinity coaches as we intensively upgrade your physical and inner reality through a blend of ancient and modern character enhancement systems.
This is the most exclusive and in-demand program currently available in the TNL curriculum, and that's for a precise reason…
The epic mix of movement training, tribal initiations, spiritual mastery drills, Tantra, grounded masculinity coaching, and psychedelic healing (with a real pro shaman joining the coaching team) is guaranteed to take your self-worth, mental & physical strength, and overall sense of masculinity to legendary levels.
The next round of NWT is happening August 15th-22nd, 2021, at my property in Portugal and there are only 2 spots left to join!