Seduction is a 24/7 process, not a 20-minute performance.
If you're at the beginning of your dating journey, you might not truly understand this yet…
After all, most guys initially prefer to meet different girls and have some casual fun.
But eventually, you will meet a woman that you deem worthy of seeing again, whether monogamously or not.
Thus a relationship is born.
And this is the moment when many guys make a fatal mistake: assuming unconditional attraction.
Simply put, just because some girl finds you interesting and is seduced by you at the beginning of your relationship, it does not mean she will continue to do so indefinitely.
After a few months of steamy s*x and burning desire, routine and monotony start to kick in.
And unless you have a plan and are proactively ready to deal with them, chances are she might become a little bored of you (and vice versa).
Of course, what to do next is up to you…
You can break things off and look for new exciting adventures.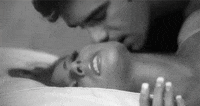 Or you can use seduction skills to reignite her desire and keep her attracted to you long-term.
No matter your choice, I highly recommend you learn the skill set to keep a woman with you no matter what. It will definitely come in handy at certain times in your life, and it's the ultimate "self-assessment test" of confidence and mastery in dating.
To learn more about this topic, watch my latest in-detail video I've just released.
Click on the link below to watch it:
P.S. Last call for my 2021 Euro Tour program!
If you've ever wanted to master dating, social dynamics and build an elite masculine lifestyle most guys can only dream of, this is your last chance for the entire year to do so.
Running from September 1st until September 12th, 2021, in Kyiv, Ukraine, this ten-day program will teach you everything you need to know (from beginner to advanced/mastery levels) to confidently meet, attract, get on dates with and keep beautiful, high-quality women in your life.
Hosted in one of the best seduction cities on the planet, filled to the brim with model-looking, down to earth girls who love to interact and get in conversations with sexy strangers, this is by far the most successful coaching program I've ever run in the history of TNL.
If you're ready to take a massive leap forward in your masculine journey and want some of the most experienced mentors on the planet to show you the way, I recommend you act NOW.
We only have 1 spot available and will close all enrollments soon.