Attraction is way too over-hyped these days.
Most men believe that to spark sexual interest in girls they need to consistently display their top game and involve them in the most intriguing conversations.
The goal is to strategically force attraction on her, often also via manipulative techniques like forging fake high-value stories or flexing your financial power so that she is down to sleep with you.
These toxic mindsets stem from a default assumption of scarcity:
' Women are not interested in me, so I must do something to get them to like me ' .
That's the opposite of how the most elite natural seducers think and operate.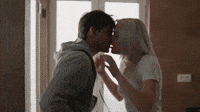 As I often remind my students in workshops: if a girl agrees to meet you on a date, she's already attracted to you.
You don't have to prove yourself or impress her to move things forward.
Just be relaxed, focus on genuinely getting to know her, make incremental physical touch and often proximity plus time spent together will do the rest for you.
This is also the topic of my latest video where I interview my long-time friend and Seduction legend, Gareth Jones.
Gareth is a true OG in the industry, having spent two decades as a men's coach and personally befriended many dating pioneers including Neil Strauss and Mystery before moving onto "Natural Game".
Watch our video to learn how his perception of female attraction changed over the years as he transitioned from the heavily indirect, routine-based pickup philosophy of the late 90s to joining TNL and witnessing first-hand the epic advantages of direct-style Natural Seduction.
Click on the link below to watch it:
P.S. Want to be personally coached by me, Gareth, and my elite mentors for 8 months to unlock peak dating, social, and business results?
In my Lifestyle Design Academy, now open for enrollment until April 17th, you get the chance to have some of the world's most experienced and in-demand specialists in many areas of lifestyle excellence by your side as you build your own Masterpiece lifestyle.
Through monthly calls, live Q&A panels, and dozens of missions and drills, these mentors will save you years of beginner mistakes by helping you eradicate poor habits from the start and effortlessly overcome sticking points as you advance in your journey.
It goes without saying that by holistically improving every aspect of your lifestyle, you'll collaterally become a much more attractive 'high-value' man who has consistent opportunities to date and have sexy adventures with hot girls without feeling the need to constantly prove himself.
To learn more about the Academy and see how it can practically help you to build the life of your dreams, click on the link below: