Do you find yourself falling into the boyfriend role way too often?
Perhaps you want to keep things casual and fun and are not looking to commit to one girl at the moment.
But, somehow, every woman you hang out with starts asking for more.
And so you find yourself in the tough spot of either cutting things off abruptly or being forced to settle into something you're not fully convinced of.
This is not coincidental or a case of bad luck…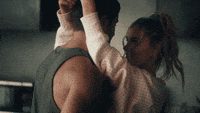 In fact, you're getting what you specifically asked for.
Or, as I like to call it, it's your lack of ability to communicate and enforce your focus on others.
For example, let's say that your current intention is to get better at dating and explore your sexuality with several attractive women.
But every time you meet one of such women, you start acting all romantic, holding hands in the street and going to candlelight dinners and cute brunches the morning after where she predictably posts stories of you and her on Instagram.
See what you're doing? Deviating from your original focus in order to keep her sticking around.
The result? She sticks around, but as a demanding girlfriend and not a casual lover.
If you want to learn how to smoothly enter casual 'friends with benefits' type of affairs, as well as smoothly transition into traditional monogamous relationships once you're sure she's good for you, watch our latest video.
In it, you'll find comprehensive advice and practical tips on how to properly define your seductive frame and focus and later communicate them to women to get what you truly want without compromise.
Click on the link below to watch it: