Even if you don't know what to say…
Picture yourself walking down the street, minding your own business. Suddenly someone runs up to you randomly, a complete stranger you've never met and starts rambling. Not just rambling, like talking nonsense, but speaking so fast you can barely get a word in.
And before you've responded or had a chance to ask them a question, they've already moved on and started talking about something else.
Before long it becomes apparent that they have no intention of having an actual conversation with you, or worse, actually want to take the time to find out something about you.
When guys first start approaching, this is something they subject women to ALL. THE. TIME.
And we see it on workshops consistently, no matter which country we coach in, where the guy comes from, 365 days of the year.
Understanding Social Pressure
Whenever two people are interacting, there is an ebb and flow of the conversation that will demonstrate the level of comfort.
If you're chatting with your mom, you're not going to be too concerned about making a good impression, hoping that she likes you and you get to see her again.
You're just going to be casually chatting away, and probably have never even thought about the meta level of the conversational dynamic. But if its a super hot girl you're talking to, that is a complete stranger and could brutally reject you, suddenly the stakes are higher.
Enter social pressure.
Your throat tightens up. Your heart is pounding in your chest, and your palms start to sweat.
Instead of letting the anxiety get to you, it's possible to just sit with the tension.
This means speaking slowly.
This means intentional pauses.
This means awkward silences.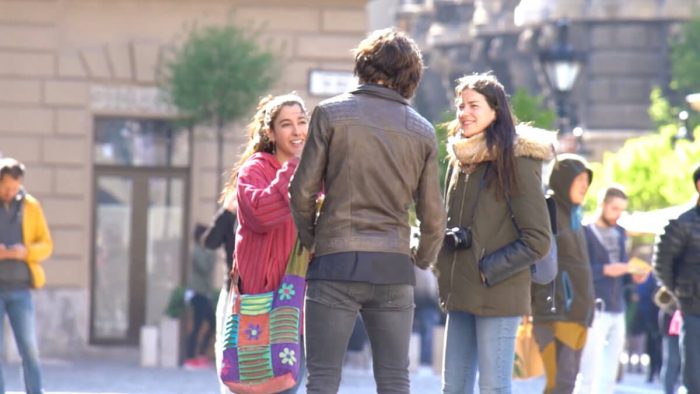 Here's The Key:
Women feel social pressure too. If she's suddenly been approached by a cool guy who isn't trying to impress her or talk her head off, that sends the message that he's not just another average guy.
He might even have something to offer her.
And suddenly she feels social pressure. She starts filling the awkward silences for you, asking you questions about yourself, maybe even trying to impress you.
Just like that, with one simple shift, you've all of a sudden gone from bumbling mess to attractive guy.
Sound too easy?
Then try this. Next time you're talking to a girl, even if it's at work or in class, just try shutting up. As soon as you feel the impulse to talk, notice it, then say nothing.
And watch the magic happen.
Remember that you can start to break your social pressure RIGHT NOW with Marshall Meditation Method online course. Click here.