Ever seen a woman belittle their husband or boyfriend in front of others? He takes it and retreats or sarcastically bites back.
Either way it's an ugly insight into a relationship dynamic that can happen to anyone.
Most girls, especially the very hot ones, deeply crave a strong man who can stand his ground.
But in today's society, real, solid, independent men are getting harder and harder to come by.
Drained by chronic use of porn and socially weakened through atomized communities and by meeting women only via dating apps, many guys have become so needy, they'd tolerate anything to get laid and get a cute girlfriend.
Even if you luck apon a hottie who likes the attention.. while it might feel exciting and novel, for the first couple of weeks, to date a servile, agreeing, overly-providing type of man, the vast majority of women will inevitably get bored and turned off by it soon into the relationship.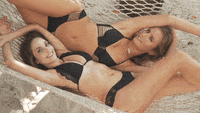 That's when the constant nagging, or 'testing', begins.
A woman will make her man's life hell when she feels there's no consequences, and the man doesn't command any respect in general.
Whereas, if he's able to state clear boundaries, and to underwrite his authority by having command of his life and the life he brings her into, most women will become picky kittens.
Set your boundaries soon, set them as early as possible, and don't be afraid to enforce them.
If you want to learn a practical method to do so and finally get unconditional respect and loyalty from women, watch my latest video below:
P.S. It's official! By popular demand, we've just added one more workshop to our 2022 US coaching tour.
Lots of guys who couldn't make it to our first programs this summer messaged me begging for more coaching opportunities overseas…now you have no excuses!
If you want to get trained by the best naturals in the world to learn how to effortlessly meet hot women anywhere, confidently flirt with them, and deeply seduce them so they crave your presence and want to meet you again on a date, apply for one of the programs below:
From Sept 26th-Oct 2nd, 2022, for our 7-day Residential Program in New York City – 3 spots left.
From Oct 4th-Oct 8th, 2022, for our last US-based workshop of the year, the 4-day NYC Intensive – 5 spots left.
80+ hours of personalized coaching per student divided into theory classes, roleplay events with female models to practice the concepts in a safe space, and daily infield sessions approaching and flirting with Manhattan babes, with the world's best coaches by your side.
To learn more and pick the best program for you, speak with our coaching team for free below: