Very commonly, gorgeous women are seen in pairs or groups.
If you're unable to approach a duo, you'll miss out on huge numbers of good seduction opportunities
Beautiful women are people magnets, always surrounded by girlfriends and men competing for their attention.
So if you want to have a chance to get them on dates, you have to know how to deal with their group.
This puts a lot of pressure on guys who think they need to pull off some major social stunt, win the crowd over, and spin multiple plates, trying to keep all the friends entertained.
Or even worse, they solely focus on their "target" and ignore her friend even when she's standing two feet away, meaning you come across as rude and socially uncalibrated.
The good news is, succeeding at group dynamics is a lot easier than you think.
All you have to do, whether it's just one girlfriend or a mixed ensemble of five or more people, is show that you're a cool and socially aware guy.
Divide your social attention 70/30 between your girl and her friend, while directing 100/0 seductive intent at the pair.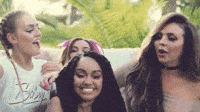 Once you do, you'll be surprised to discover that her friends will often assist you rather than cockblock.
Watch my latest video to learn how to properly deal with groups and approach two or more women.
Link below:
P.S. Want to work with me and my own group of elite coaches to ignite your romantic and social life this year?
Then join us this summer from Aug 29th-Sep 2nd in Barcelona, Spain, for our four-day intensive coaching program.
Get access to the best education available on the planet to men on how to successfully meet tons of hot women through Natural, direct style approaching and get them on dates consistently.
From what to say to start the conversation, building tension and compliance through smart flirting, getting her number, and setting the date via texting, to physically escalating and taking her home without resistance…
You will not only learn what truly works with girls but also make every concept second nature by spending dozens of hours infield with us meeting beautiful women and getting them on dates in real life.
This is your opportunity to set the foundation for years (and potentially decades) of true abundance and sexual success.
This is our last European workshop for the year, with spots selling fast, so jump on an obligation-free call with us this week: