Do you often get stuck in boring conversations with women that lead nowhere?
Or worse, where she's actually almost silent, looks confused, and you have to do all the talking?
Sorry to break it to you but if that's something you constantly experience in your approaches, chances are YOU are the one causing the problem.
See, it's totally normal that some girls are shy and need time to open up and engage back…
But that should happen within the first five minutes of talking.
Once she realizes you're a chill, charming guy and feels comfortable in your presence, commonly, woman will naturally invest and contribute to keeping the conversation going.
And that's when most guys out there predictably mess up.
Overly excited that a hot girl is talking to them and impatient to score, they start doing too much instead of focusing on the one thing that is proven to yield the best results:
Give her space, slow down, ask good questions and shut up and let her talk.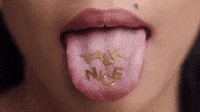 Most inexperienced guys, pepper her with irrelevant questions, cut her off, stumble over their words and as a consequence, she quickly loses interest and turns into the speechless, stone-faced female creature every seducer knows.
If you're looking to prevent that from happening again and start having better, sexier, and more intriguing conversations with women that actually lead to dates, make sure to watch my latest video below.
In it, I break down the four most common conversation mistakes guys make that turn women off.
P.S. Want to work with me in person to get past most beginner mistakes within hours (and not years) and rapidly start getting more dates and adventures with beautiful women?
Then join me and the full TNL team including Alex, Shae, Virag, and Gareth Jones this summer from Aug 29th-Sep 4th, in Barcelona, Spain, for our last and most popular Residential Workshop of the year.
Seven days of intensive coaching, theory masterclasses to access the latest insights and discoveries on what actually works with women, inner game sessions to unleash authentic confidence & charisma, roleplay workshops to practice every concept in a safe space with our team of hot female assistants and, most importantly, dozens of hours of approaching gorgeous women in the streets, cafès, parks, and beaches of the Catalan capital while getting constant 1-on-1 feedback from the coaches.
Only four spots left as the workshop is already 50% sold out.
To learn more about this training opportunity and see if it's right for your goals, click on the link below and get on a free introduction call with our student success team: